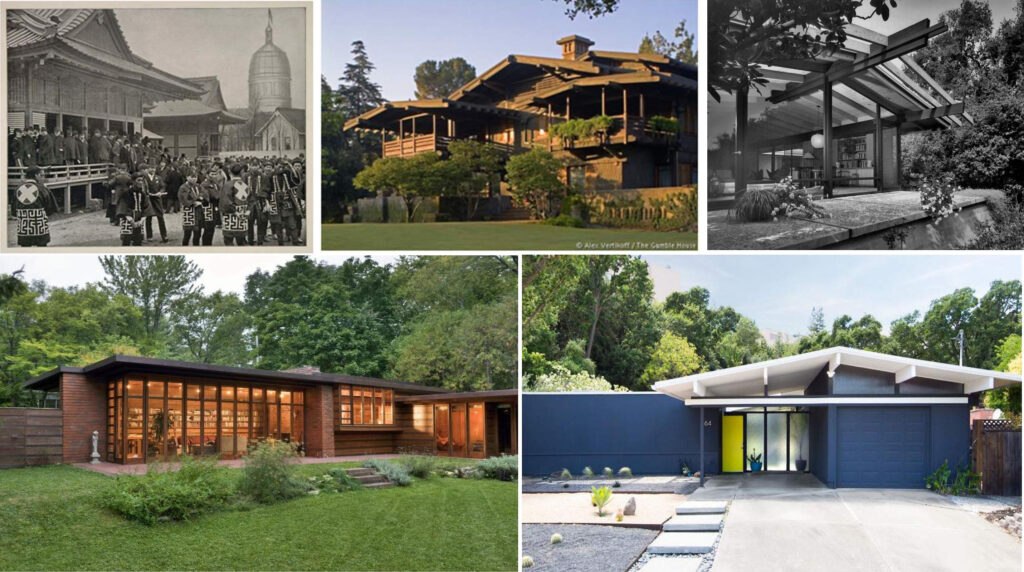 Most California architects build basically  from the same pile of materials. How architects put those materials together, the ideas they use to do so, that defines their styles.  Architecture is an expression of ideas about construction technologies, social structures, aesthetic systems, and many other things. The architecture is created through the principles ordering them.
The Ideas that go into the Mid-Century Modernism expressed in the famed Eichler developments and the residential track designs done for him by Anshen and Allen, known for the Mid-Century Modern design they express, go far deeper into architectural history than most know. Eichler was the first to effectively bring modern designs to the mass housing market.
These open, light and simple structures reflect an economy of materials and efficiency of space planning tied to a long-honored Asian tradition. They are pavilion-like and, in fact, find their origins in a pavilion brought to the Chicago World's fair from Japan. One that inspired the famous Arts and Crafts architects the Green Brothers.
Charles Green(1868–1957) and  Henry Green(1870 – 1954), early inventors  in the Craftsmen movement, were on their way to California to start a practice after their formal education. They stopped over at the Chicago World's Fair of 1893, and it was the Pavilion fashioned after a recreation of the Ho-o-den, an 11th century Buddhist temple, that caught their eyes and hearts.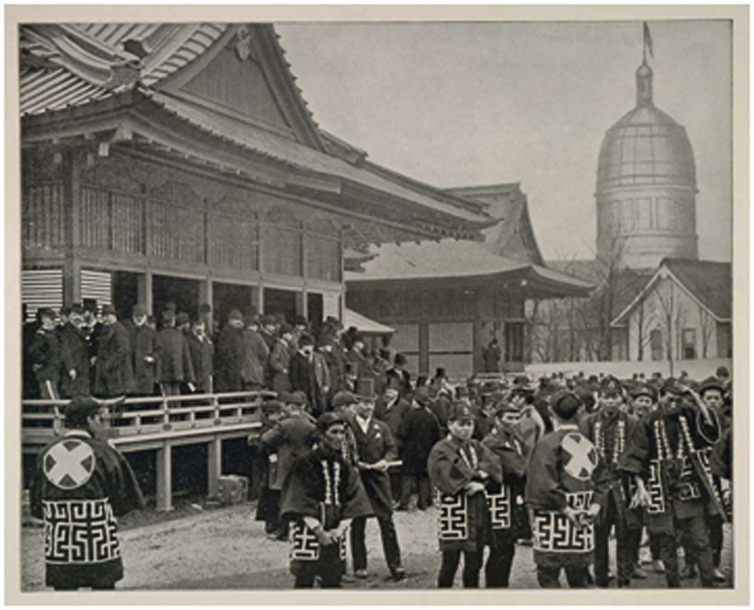 Japanese Pavilion Chicago World's Fair 1893
From this pavilion, the Arts and Crafts style they executed so beautifully was born. It was in Pasadena that the Green Brothers emerged, and their work informed the American Craftsman movement. They worked with Gustav Stickley of  New York's The Craftsman magazine, and the Roycroft Movement, the community of artists which invigorated the Arts and Crafts movement.
An interview with Henry Green ignited a lifelong passion for Architecture in a young Calvin C. Straub (1920-1998), later professor of Architecture at USC & ASU he became an American architect who would help shape Southern California's modernist architectural style. This style, tied to an ancient tradition but not a western one, still informs most residential and and some commercial design today.
Henry Green's famous style had fallen out of vogue when the young man interviewed him. But Straub appreciated the beauty of Green's designs. Green's four hour interview inspired Straub to read the European Arts and Crafts philosopher, John Ruskin, whose philosophies tied both moral and social health to the qualities of architecture.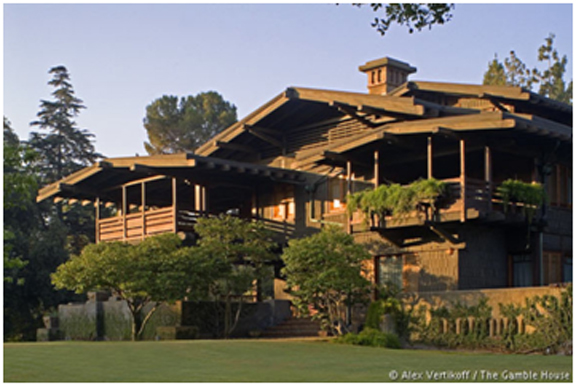 Gamble House – Green & Green 1908
Straub went on to study architecture and, as an ROTC. , enlistee, then officer, he finished his education at USC and entered two years of military service. Postwar, Straub returned to Pasadena, deciding to build his own home. Straub had worked briefly in the office of Richard Neutra, and appreciated the clean, modern plans Neutra created. Straub determined to design for himself (and for a couple of friends who shared property and labor) simple modern cottages. He likened each of them to a "pavilion in the garden".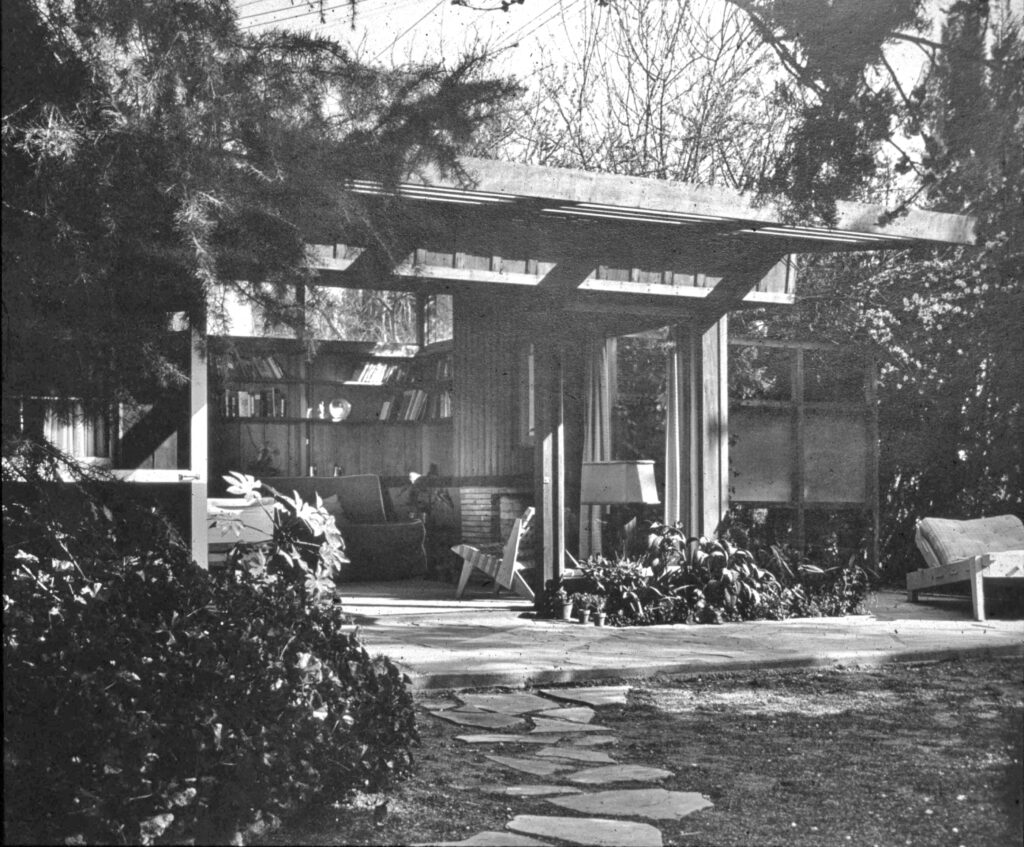 Straub Cottage Pasadena 1946, Photo by Julius Shulman
After his service as a navigator ended with WWII, Straub found building materials extremely rare. He began experimenting with 4×4 posts and 2×12 lumber attempting to minimize materials. He created a system that used 4×4 posts and 2×12 joists as beams set on either side. He in-filled large panels of glass (plate glass had only become available in 1922) These sheets of plate glass where used between the recurring pattern of "post and beam".
This style reflected a modular system very similar to ones he had seen In Japan during his war years. The module of the tatami mat, 955m by 1.91m, forms the basis for much of historic Japanese architecture.
Esther McCoy, famed LA. Architectural historian, considers Cal Straub "the father of California post and beam architecture" because of this innovation and his influence through its dissemination during practically a decade of nearly monthly, published works in Sunset Magazine, most with images by famed Architectural Photographer Julies Shulman.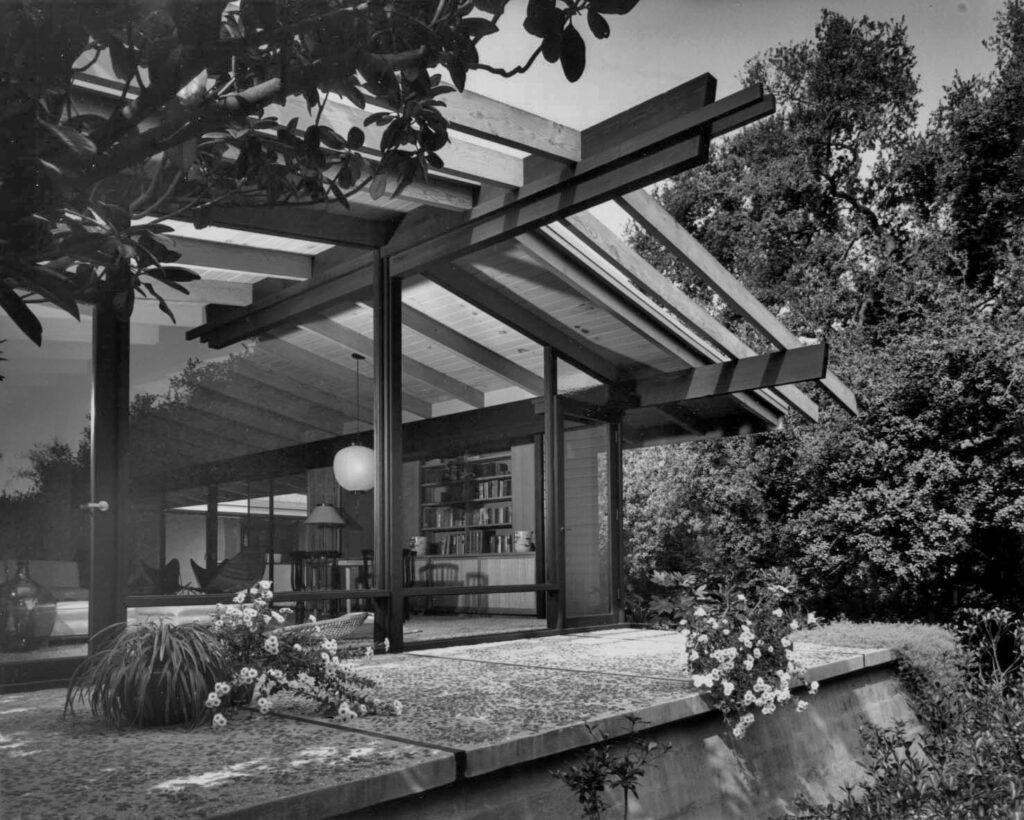 Brandow House 1953, Photo by Julius Shulman
Straub was, at that time, also an instructor of Architecture at USC. He along with his fellow instructors were instrumental in the development of the ideas about space, materials and composition that make up Mid Century Modernism. One of these instructors, A. Quincy Jones (1913 – 1979), designed some of Eichler's most popular plans.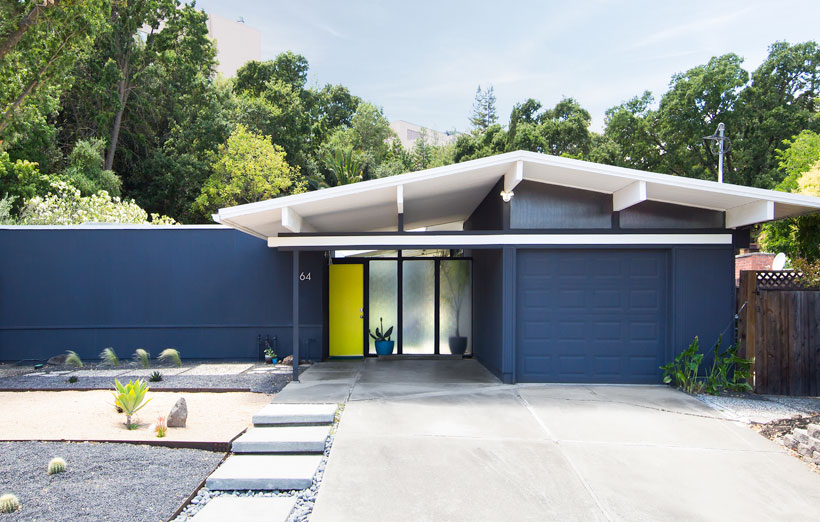 A Q Jones- Eichler Development  Walnut Creek California. 1959
Eichler's principal design inspiration was Frank Lloyd Wright (1867 – 1959) , who himself found inspiration and influence in Asian design. He deftly utilized modular designs in his "Usonain automatic houses". One of these the "Bazett " house Joseph Eichler rented for his family for two years, falling in love with Wright's style and his ideas about residential design .
Wight had attempted in his "Usonian" houses to create a systematized house design of moderate cost for families. His intention was to get rid of unnecessary complications in construction, use work in the mill to a good advantage, with off site pre-fabrication to reduce field labor. Simple detailing, the elimination of interior trim, heating "the Roman way" , with radiant heated floors- all for modest budgets where Wrights contribution to the emerging mass residential modern designs.
Wright said "it would be ideal to complete the building in one operation as it goes along, inside and out" .  At the heart of Wrights concept was the design of spaces not simply rooms. Prior to his brilliant and visionary designs most homes where a series of rooms connected by halls. They where simply boxes punctuated with windows, ornamented with traditional style applied on the surfaces.  He consolidated and simplified for these homes heating, lighting (exposing the wires with the bulbs as the fixtures) and sanitation. All while  maintaining a sense of spaciousness and a unified expression with the site.  An "organic" design principle. "in order to liberate the people living in the house". (1)
Nearly all of Wrights designs came in well over budget often two or more times the anticipated costs.  Joseph Eichler however was far more restrained and successful a defining attainable goals and limiting costs.  He also used contemporary track-development construction techniques . He went on to build over 11,000 modern houses. These houses remain in high demand today for their uncompromising design and quality. They have come to be known as "California Modern".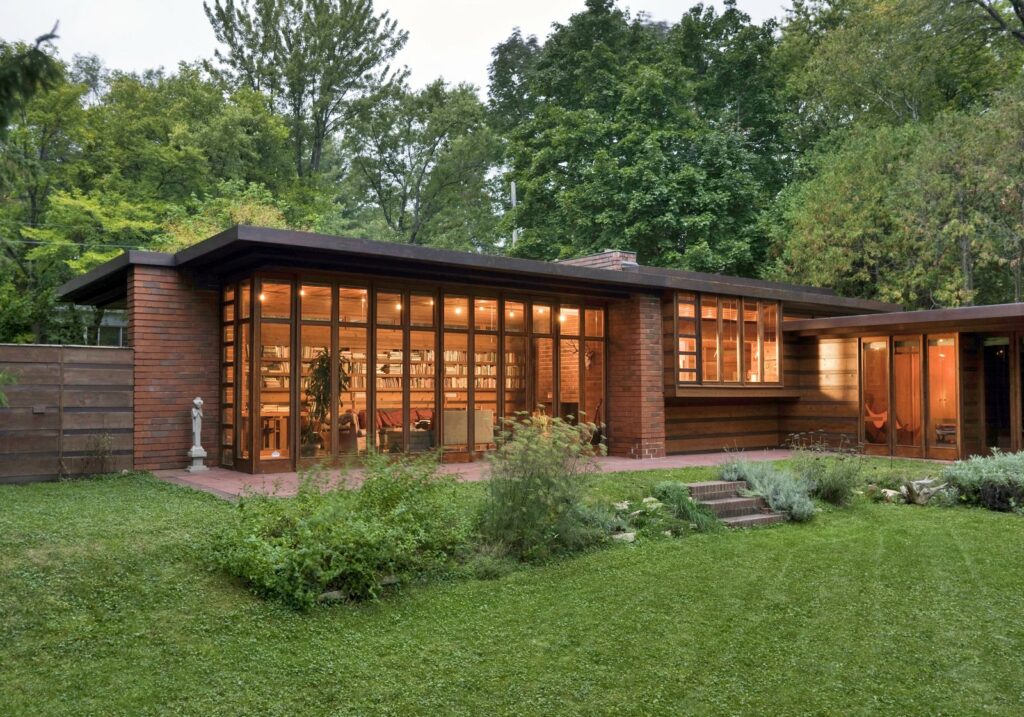 Jacobs House- Frank Lloyd Wright 1937
It was a principal architect on staff with Ashen and Allen in their San Francisco office, Claud Oakland, who went on to work in the offices of Eichler and design over 3.430 Eichler homes in 51 different subdivisions. He continued the traditions developed under the careful watch of Anshen & Allen.
These are pavilions in the garden, open to the light with large plate glass windows. Their post and beam construction, and open modern spaces find their origins in the simple beauty of Asian design with the integrity of American Arts and Crafts design, all aligned with modern space and construction. A timeless way of building.
Credits:
Article by Wm. Mark Parry-Artisan Architecture
Edited by Brian Boyle
Commissioned by Larry Tristano of Sotheby's Realty International.
Photo's
1893 Worlds Fair Pavilion- Wikipedia-public domain. Fair Use
Gamble House-Alex Vertikogg/ from www.-public domain. Fair Use
Straub Images: Jules Shulman: Photographer Courtesy of the Estate of Sylvia and Calvin C. Straub.
A.Q. Jones-www.eichlernetwork.com/article/wonderful-world-eichler-homes-Fair Use
Jacobs House FLW. https://www.dwell.com/article/usonian-homes-frank-lloyd-wright-
References notes:
(1) Wright Frank Lloyd, The Natural House, Horizon Press, New York, 1954, p. 78,79
Sergant John, Frank Lloyed Wrights's Usonian Houses,Whitney Library of Design,New York
Makinson, Randell. L.,Greene & Greene: Architecture as a Fine Art .1977, Peregrine Smith, Inc
Winter, R., Toward a Simpler Way of Life: The arts & crafts architects of California. 1997, Berkeley: University of California Press.
https://www.eichlernetwork.com/article/wonderful-world-eichler-homes
https://en.wikipedia.org/wiki/Joseph_Eichler