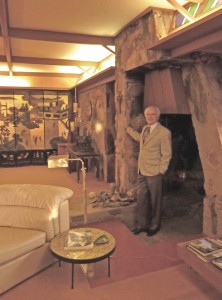 Larry Simons FAIA retired from architectural practice and liquidated his vast real-estate holdings in the latter part of 2017. It was a process that most likely took years to plan and execute. However Larry in is signature humility did not talk about it much.
Larry is perhaps the most significant Sonoma County architect of the last 50 years. He has designed about 25% of Santa Rosa's downtown and has been one of the largest developers in the region.
He was an early proponent of architect as developer. He learned how by reading a book by
John Portman
a developer architect of the
Hyatte Regency Chain
. Portman was run out the AIA because of his unique approach to delivering architecture as an owner/builder. A while later they started giving him awards for his work. Architects seem to have issues with other successful architects at least at first.
In 1968 Larry toured the work of Frank Lloyed Wright, met Wright and his third wife Olgivanna. He then started his practice emulating the principals and many design themes of the greatest American architect of the 20th Century (also according to the AIA 35 years after Wright claimed that for himself). Larry is shown above in the Sun Cottage where he stayed as a guest of the Frank Lloyed Wright foundation in 2015. It was his first time back to Taleisn after his intial visit. He had gotten very busy building.  He presented his work as architect as developer in a lecture to the Frank Lloyd Wright School or Architecture.
Larry created a uniquely successful business model with the help of his late partner Jim Brecht. He, and his last  partner Joan Woodard  manage and owned with other investors over 30 properties (see Stony Point Road, both sides between 3rd & Gurneville Rd. and the The Corporate Center Parkway complex North West on Sebastopol Ave.), Larry has won 12 design awards. Below is the Rattegan Federal building one of Larry's many contributions to our built environment.  Basin Street Properties best known locally for the Basin Street development in Petaluma purchased the majority of Mr. Simmons properties.