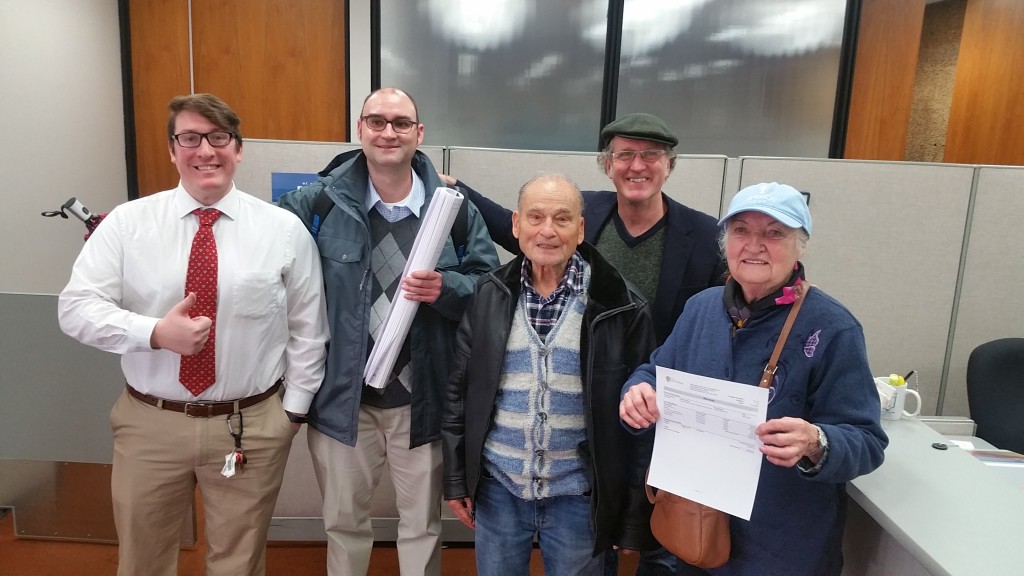 Cal Fireman  Dominik Schwab and his parent's Leo & Mira Schwab received Santa Rosa's sixth and seventh fire reconstruction permit Friday January 18th  @  12:00 pm over the counter  after 2 hours with  plan check engineer Mathew Godinez.
 Dominick is a true a hero. He waited out the Tubs fire in his Coffee Park home because he had put on it a metal roof and thought it might survive.  But when the windows blew out and the interior was engulfed in flames he calmly put on a "hoody" walked out the front door and found where his parents where. They had been in touch via text during the event and lived a few blocks away. They lost their home as well.
 Within eleven days of the fire he was at Idea Studios with his parents. They both signed a contract, provided a retainer and we started the work of getting them back into their home. Leo and Mira are German immigrants in the country for the last 40 years. Leo's father was involved in the Nazi Resistance in Germany during WWII and it did not go well for the family so after the war they emigrated to the U.S. Leo say's every day it is still a wonder to live in America. 
 Dominik works as project manager and is experienced in that role in his Job with Cal Fire working on timber harvesting plans.
 He really managed the process well, making good decisions and leading his elderly parents through the troubling event. The family really stuck together and it worked out for them.
 They combined their efforts and resources to get an efficient process. Leo & Mira chose to build the same house the Dominik had lost on their lot and the use of a single floor plan with minor changes for both properties really saved some money and time.
 Friday January 19 2018 they made a significant millstone being within the first ten people to receiving plan check clearance and a building permit to rebuild  both their coffee park homes. 
They chose to work with Marin contractor Alex Pisarzk.  The two houses advanced together with Dominick's being finished a few month prior to Leo & Mira's. All where happily back home before January of 2019.