Not all well-designed and constructed buildings are architecture. Occasionally, perhaps, an artist or skilled artisan can design and make a soul-satisfying structure, but real architecture usually requires a gifted and trained architect.
Training, talent, and experience make all the difference, to the astute it is obvious. The best test of architecture is time. How does a work hold up, aesthetically and practically compared to it's context after the popular styles have moved on? The preeminent architecture, the cornerstones of the art, are apparent because they maintain forever their importance and power. Fad, fashion and styles change. Popular tastes- magazine architecture- may be impressive for a moment, may even win awards, but it is not necessarily meaningful. Art created with excellence and sophistication, particularly important or influential, remain a defining moment in the development of the art. It is these works that are sought by collectors.
Collectors purchase and preserve these works and they are generally qualified by connections to historic persons, events, creative movements or substantial artists, or artistry in the arts and crafts.  Collectors discern and recognize these traits and respect that the best works remain distinctive and everlastingly significant. These have both financial and cultural value and they generally need to be qualified by experts. It is the realm of architectural historians to document or track these issues.
Finding significant architecture, and then connecting those works with collectors who will preserve its unique or distinctive character is critical to the ongoing history and advancement of the art, craft and science of architecture. Re-muddling removes the historic record, ego driven or fashion focused changes weaken, dissipate or destroy the art.  This is a story of  how works of architecture are qualified, why they are acquired by collectors and the people who have done it very well.
Lawrence Simons, Fellow of the American Institute of Architects (FAIA), remains one of the most prominent architects in the Santa Rosa region of the mid- and late-20th century. When discussing the nature of Art, Artisan Architects and what describes himself or his architecture Larry Simons simply said "I am an Architect".
Simons, educated at Cal Poly San Louis Obispo, graduated in 1961, and then moved to Sonoma County in 1966, having fallen in love with the Valley of the Moon (1). After an extended tour of the works of Frank Lloyd Wright, he was full of enthusiasm and a desire to make great architecture. Simons followed his passion, and his heart. Fortuitously, he came to town at the right time, with the right ideas, and made the right friends. His design talent and his focus on cost-effective, simple to execute designs, assured his place in not only Santa Rosa's architectural history, but the region's, as well.
In the mid- to late-70s, he and his team of young architects, "The Magnificent Seven" included — Ed Sohl, Michael Palmer, Joel De Silva, Ken Coker, James Brecht — together created 22% of the buildings within the nine square blocks that make up the core area around Santa Rosa's courthouse square. Overall, Lawrence Simons Associates has won 38 design awards. (2)
In the early 80s, Simons transitioned away from a retail architectural practice, to a design-build development and property management firm.  He has made a unique contribution to the profession of architecture.  Mr. Simons made high design practical, affordable, accessible and profitable.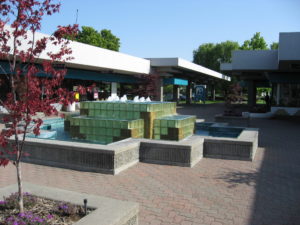 Simons was an early proponent of the architect as developer. After reading a book by John Portman, a developer architect of the Hyatt Regency chain, he set out on this path for his own work. Simons wanted to have more control over the finished product; his desire was to create superior designs, with clear integration of construct-ability and cost effectiveness, but with high style. Simons accomplished this by becoming a developing owner, an architect with a firm grasp of the construction process. He created a uniquely successful business model with the help of his first partner, Jim Brecht.
Beginning at a time of major development in the commercial office sector in the region, Simons and Brecht went on to become the most prolific, and arguably the most successful developers in the county of their day.
Included in their portfolio were the Fountain Grove Inn, and the Stony Point Master Plan — which introduced 14 major commercial buildings and retail spaces on two sides of Stony Point Road — as well as the Corporate Center Parkway, with numbers of other large commercial buildings located at 3333;3356;3358 Mendocino Avenue. When Brecht passed away, suddenly in 2001, Simons then partnered with Joan Woodard. They managed and owned (along with other investors) a portfolio eventually including well over 30 substantially developed properties. One property alone contained over 600,000 sq.ft. of leased space. (7) When he retired in 2017 after 51 years of practice, Simons liquidated his extensive real estate holdings. He sold seven buildings in a single transaction to Basin Street properties, A Reno Corporation. (5) Simons created 88 buildings in total during his long career. (1)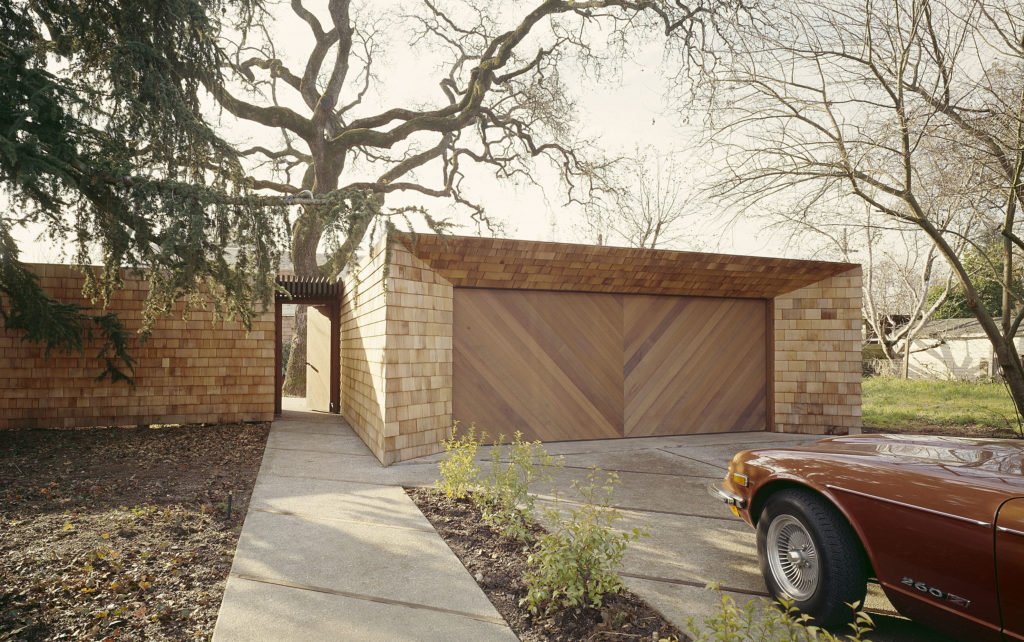 Built in 1976, the Simons residence at 1430 Pacific Avenue was the second private home that he designed, for which he won an AIA Honor Award the following year. Simons designed this home for him, and his son Keating, while separated from his first wife. Subsequent to his divorce, and upon his second marriage to his secretary, Gudrun Simons, Simons added bedrooms for himself, his new wife, and his daughter, Marrisha (both Keating and Marrisha were his children with his first wife). Keating used the loft space accessed by a ladder over the dining area. (7) Gudrun and Simons worked together for over 20 years.
The Simons residence was designed for problem site that had remained on the market for some time. Formerly Luther Burbank's own compost site, the property had a large well-established oak tree, and a Cedar of Lebanon planted by Burbank Himself. The location of the trees made it difficult to place a house on the site. The Planning Department setbacks required a garage, attached to the residence within 20 feet of the street. Simons innovative design created a court yard house with walls enclosing the space and connected to the garage. The residence utilized large sliding glass doors that opened the interior spaces to the courtyard and garden spaces.
Thus a single family-residence with the required attached garage became a courtyard house. Although not a large house, initially less than 1,000 square feet, the use of storage elements as room dividers with large mirrors defined the interior spaces, and provided a sense of transparency and openness. All spaces looked out on gardens, the oak tree or strategically located art pieces gave the house transparency and expansiveness. Every detail thoroughly thought out, the signature sophisticated and minimal modernist style used through his design career was apparent.

The residence, as all of Simons' projects, exudes calm from its sophisticated décor and clearly resolved and exceptional refined artistry. Contemporary overtones of Arts and Crafts detailing integrate all the spaces with a singular expression. A key tenet of Arts and Crafts was the integration of both interior and architectural design with art, and the house still contains a number of unique art pieces created for it.
The front court features a work by Roger Barr, and Simons himself crafted a mural-like plaster wall finish, through the clever use of drywall mud and a wooden yardstick employed in a circular motion. A mosaic tapestry Simons created of carpet remnants remains on an upper wall. These are features and details that define artisan architecture. The house, sold twice after Simons' tenancy, was the first of only three personal homes he designed and built.
In the fall of 2018, the third owners of the residence retained Larry Tristano, of Artisan Sotheby's International Realty, to find a new caretaker for this unique work of architecture.
Once the owners relocated out of  country they retained Tristano. He recognized immediately the property's substantial cultural value. He enthusiastically sought out all available information on the residence. He realized some time later that he had been a childhood friend of Keating Simons, and recalled having heard about Keating's loft bedroom, but had never visited.
Tristano carefully appointed (staged) the residence then had it photographed, and began to research its history. Ultimately, his interest and passion for the architecture lead Tristano commission this historical architectural article to document the residence, but also to meet Simons at the residence.
Tristano sought carefully the perfect new owners, and serendipity provided the perfect match. Allegra Burke is an artist in multiple mediums, fabric, sculpture, and painting. She, and her husband, Thomas Pratt, lost their own Riebli Valley home home when the Tubbs Fire consumed all of their personal possessions, family mementos, and personal art collections, as well as their own works of art.
They made their temporary home at the Hyatt Regency near down town. They had not yet begun their search for a new home when being simply curious about the current market they went to see this residence. They had been captivated by the images presented.
Burke and Pratt had remodeled several homes. They had an appreciation of the value of superior architecture and have a comfort with preserving it appropriately.
Burke realized immediate upon entering the Simons residence that it would fulfill all of her hopes for a new home. She wanted something unique, special, with superior design. She knew that this home would satisfy all of her requirements.
Enthusiastically, before she toured the rest of the house, Burke shared with Tristano her extensive list of desires. Naturally, she was thrilled beyond words to find her dreams and desires satisfied beyond her expectations by the design of this home.
As of this writing, Burke and Pratt have purchased the Simons residence, and they have upgraded the electrical and entry systems to incorporate current security technologies. Allegra plans to use the bedroom as her studio, and the family room for their bedroom suite, as Larry Simons had. Their intention always is to honor the original design and designer; in fact, Simons himself has provided some suggestions for a new stairway to the loft space, as a  ten-year-old boy no longer will be using it.
All of these fascinating providence's suggest the lyrics of singer/poet, Van Morrison, are true, "…if you live the life you love, you get the blessings from up above." It is not just the mind, but also the heart, that creates true architecture.
Because the aspirations of the heart can be a mystery, we marvel when the artisans and practitioners of the craft actually bring about true art. Morrison's words ring especially true for all those who have been involved with 1430 Pacific Avenue since its conception in the heart and mind of its creator, Architect Lawrence Simons FAIA
Footnotes:
The Architecture of Lawrence Simons, FAIA (self-published biography), pg. 157
pg. 154, 155
IBID pg.152, 153
Interview with Lawrence Simons and Larry Tristano, 2/20/2019, 10:00 AM
http//www.pressdemocrat.com/business/6614954-181/simons-woodward-sells-seven?sba=AAS
Interview with Allegra Burke, 4/10/2019, 11:00 AM
Phone interview with Lawrence Simons, 4/19/2019, 5:24 PM